Key Resources
Looking for more information? Here's everything you should need.
Press Release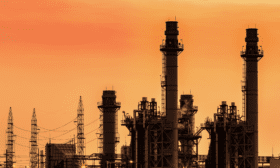 Cheaper renewables would increase energy security and lower household bills LONDON, February 10 -- Poland...
Read More
Polish Translation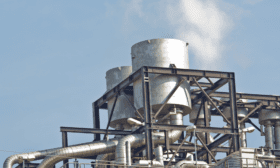 Key Findings & Executive Summary
Download
Webinar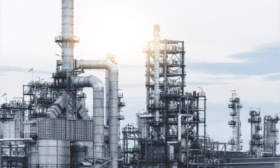 17 March | Online After being the centre of coal controversy, Poland is looking to transition energy...
Read More
Key Quotes
Senior analyst and report co-author Jonathan Sims said: "Costs of clean technology continue to fall and by mid-decade solar and wind farms backed by battery storage will be able to provide flexibility services comparable with a gas peaker plant at lower cost. Pursuing gas will cost taxpayers billions in subsidies and higher energy bills, undermine EU climate targets and expose the country to pressure from foreign gas suppliers."
Associate Power Analyst and report co-author Lorenzo Sani said: "This note aims to dispel the notion that Poland has little choice but to switch from the use of one fossil fuel to another for its power supplies. It attempts to persuade policy makers to grasp the immense opportunities available to the country in the lower cost and lower risk renewables sector. We highlight the extreme risks to investors of long-term gas plant investment."
Poland is approaching a key point in determining the future direction of its power system and the technologies that it wishes to turn to.
As Poland begins its transition away from the coal-fired supplies it has relied upon for so long, the country's current plans are heavily based on a switch towards gas-fired power.
However, results presented in Poland's Energy Dilemma finds an overwhelming picture that new renewables will be cheaper investments than new build gas. To highlight this the analysis compares the levelised cost of energy (LCOE) for new renewable investments in Poland with the projected investment costs for new gas in the country on LCOE.
Figure 1: LCOE New Gas in Poland vs. LCOE of New Renewables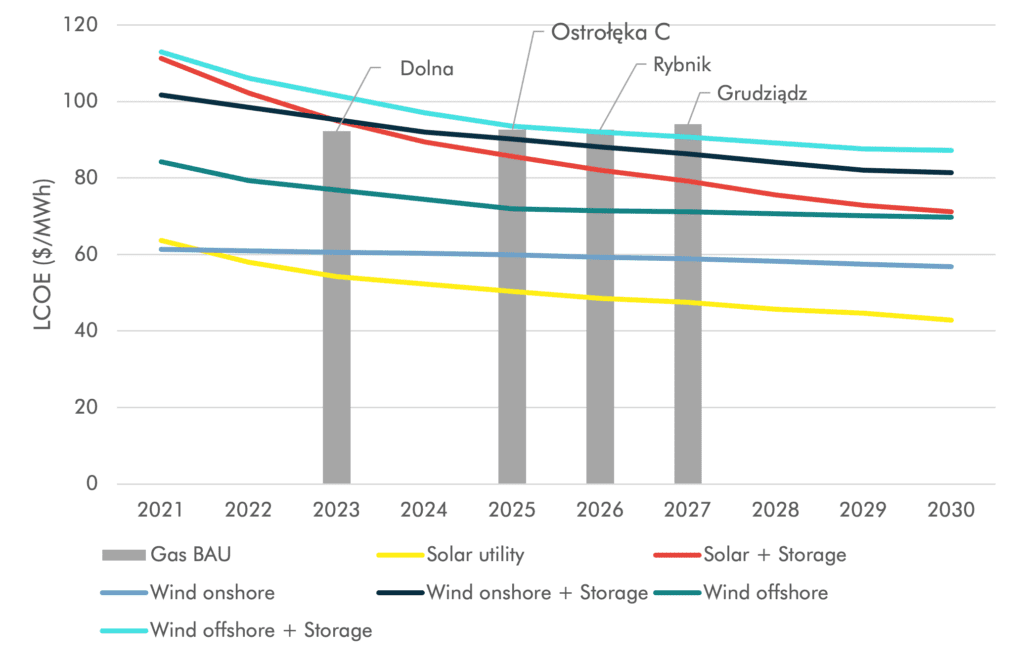 Source: Carbon Tracker analysis
Key Findings
The relative cost competitiveness of renewables versus gas in Poland is abundantly clear. Investments in new renewables capacity are already cheaper than planned new large-scale gas in the country, while some of the gas units in planning will enter the market as uncompetitive with even renewables with battery storage from day one if they proceed to development.
New large-scale gas units in Poland appear totally incompatible with a net zero emissions by 2050 pathway and any that are built may be forced to close well in advance of the end of planned lifetimes. Such a strategy also risks locking the country into a future with high electricity prices for consumers amid record wholesale gas prices globally.
More than $200 million is at risk of value destruction. Significant levels of capital will be lost by developers if planned gas plant projects proceed to development and assets are then forced to close in line with the timeframes required to deliver EU net zero aims.
The Polish taxpayer will foot the bill for funding new gas in Poland. None of the gas plant projects we have analysed would be financially viable without subsidies through capacity market mechanisms. These five units alone could cost the Polish taxpayer more than $4.4 billion if they proceed to development, while the level of payment awarded to some projects is significantly higher than is required by the developer and funds could be freed up for low carbon innovation.
If awarded capacity payments were set at levels comparable with other capacity market mechanisms in Europe, projected net present values for all planned gas units in Poland would be pulled into negative territory. This effectively indicates that Poland's pipeline of projects would be considered economically unviable if planned for build in other parts of the continent.
Even under business-as-usual, Poland's planned pipeline of new gas is increaingly vulnerable to becoming loss-making in the event of relatively small price swings in volatile fuel and carbon markets. Just a 25% increase in carbon price from our base case assumptions will pull the total net present value of the pipeline of projects into negative territory.