Key Resources
Looking for more information? Here's everything you should need.
Press Release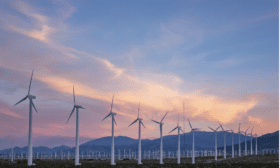 Unresolved grid bottlenecks risk adding £200 to annual household bills by 2030 LONDON 15 June– Britain...
Read More
Key Quotes
Lorenzo Sani, Carbon Tracker Power Analyst and report author said:   "The electricity grid is not fit for purpose because investments are not increasing in step with the rapid growth of wind power. Without significant improvement in the permitting timeframes for critical energy transmission infrastructure – the grid can't support the government's plans to decarbonise generation by 2035 or deliver on its vision of 'affordable, homegrown, clean energy."  "If no action is taken, wind congestion costs could treble in the next three years. However, by prioritising investments in grids and flexibility, potential congestion costs of £3.5bn could be halved by 2030." 
RenewableUK's Director of Future Electricity Systems Barnaby Wharton said: "This report shows how essential it is to upgrade our electricity grid to reach the Government's net zero target. We've known for years that more renewables need to be built to meet our goals, but the network has not kept pace, creating bottlenecks and constraints in the system, and this is costing consumers hundreds of millions of pounds. The solution to this problem is clear: building more grid is essential to getting low cost, low carbon power to consumers and reducing our reliance on gas imports." 
Lucy Yu, CEO of the Centre for Net Zero, said: "The UK is wasting a lot of wind power - and this is only set to continue. The grid's capacity is holding back our ability to effectively harness the growing amount of green energy that's available. Building more cables is important, but we can also use our existing infrastructure more intelligently. Our research shows that transitioning to a flexible energy system, whereby we incentivise demand to match supply using the right price and carbon signals, presents a huge opportunity that we must pursue to realise our net zero ambitions". 
Investments in the electricity grid are not keeping up with the rapid growth of wind resulting in record losses of green electricity and high costs for British consumers.
In this report, we set out to analyse the health of Great Britain's electricity transmission grid – the backbone of the future decarbonised power system. We found that, as investments in transmission have stalled, Great Britain's electricity grid has not kept pace with wind deployment and is currently not fit for purpose. As things stand, the grid cannot adequately deliver the UK Government's vision of "affordable, homegrown, clean energy".  
Due to these shortcomings, the system is increasingly forced to curtail wind generation while requesting polluting gas plants to ramp up generation in so-called wind congestion events. Since 2021, wind congestion costs have totalled £1.5 billion, with the amount of wind power curtailed equating to the annual consumption of 1 million households. 
Investments in the electricity grid are not keeping up the pace with the growth of wind capacity, especially, on the critical link connecting the wind resources of Scotland with the large cities and industries of England. Wind capacity in Scotland is expected to grow four times faster than the new transmission infrastructure.  
As a result, we found that wind curtailment on this bottleneck could experience a five-fold increase by 2030, wasting an amount of electricity equivalent to the annual electricity consumption of more than 5 million households. Wind congestion costs across the Scotland-England boundary are set to grow dramatically and could surpass £3.5 billion in 2030. This could result in a nearly £200 increase in annual electricity bills for British households. 
AS WIND DEPLOYMENT OUTPACES GRID EXPANSION, CURTAILMENT COSTS ON THE SCOTLAND-ENGLAND BOUNDARY ARE SET TO SOAR DRAMATICALLY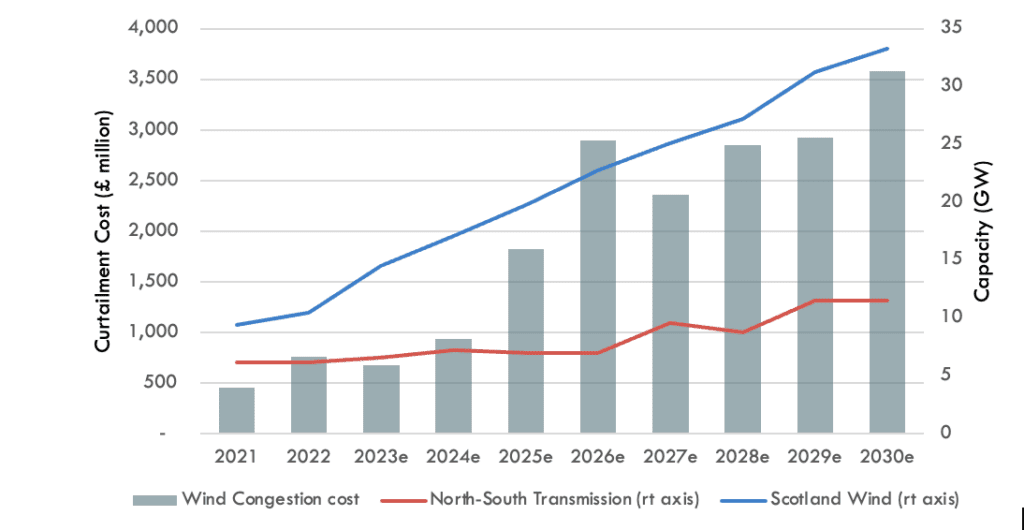 Carbon Tracker Initiative (2023)
In the report, we present several solutions that could help to solve this problem. First, we focus on the importance of the timely delivery of new transmission capacity and the need to expand the existing pipeline by 2030. Then, we analyse how energy storage and hydrogen can alleviate grid constraints while increasing the resilience of the grid and its capacity to integrate a higher share of renewables. We find that electrolysers and green hydrogen can play an important role in reducing wind curtailment and accelerating the decarbonisation of other carbon-intensive sectors. Finally, we offer recommendations for policymakers to solve wind congestion issues and facilitate the creation of a future-proof electricity grid. 
This report is addressed to policymakers, energy regulators, grid operators, project developers and electricity utilities that can help solve the issue with the electricity grid and reap the benefits of a decarbonised power sector. 
If you have follow-up questions, please contact directly the author Lorenzo Sani at lsani@carbontracker.org  
Register for our launch event on July 5th at 11:00-12:00 BST here