Key Resources
Looking for more information? Here's everything you should need.
Press Release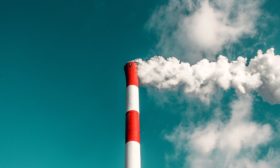 Despite rising acceptance of peak oil demand, most plan on increasing production LONDON/NEW YORK, June 24...
Read More
Related Event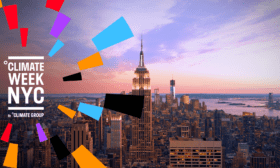 23 September | 14:00 BST | 09:00 EST Carbon Tracker is hosting this webinar as part of Climate Week NYC...
Read More
Key Quotes
Mike Coffin, Oil & Gas Analyst and author of the report, said: "Companies cannot be aligned with Paris unless they commit to only sanctioning Paris-aligned projects – this will have the knock-on effect of absolute cuts to their oil and gas production and resulting emissions. On their own, net zero targets are insufficient to link to Paris goals. To do that, climate targets need to recognise the absolute limits of a global carbon budget and incorporate interim emissions reductions.  Policies which fall short will fail to satisfy both environmental and financial concerns from investors, and risk being perceived as greenwashing."
There is growing recognition that drastic changes to oil and gas consumption are required to meet the finite limits of a global carbon budget and the goals of the Paris agreement.
Building on our recent work analysing company ambition, Carbon Tracker defines the structural "Hallmarks of Paris Compliance". This framework is used to derive a relative ranking of company climate targets for the seven majors, plus Equinor and Repsol.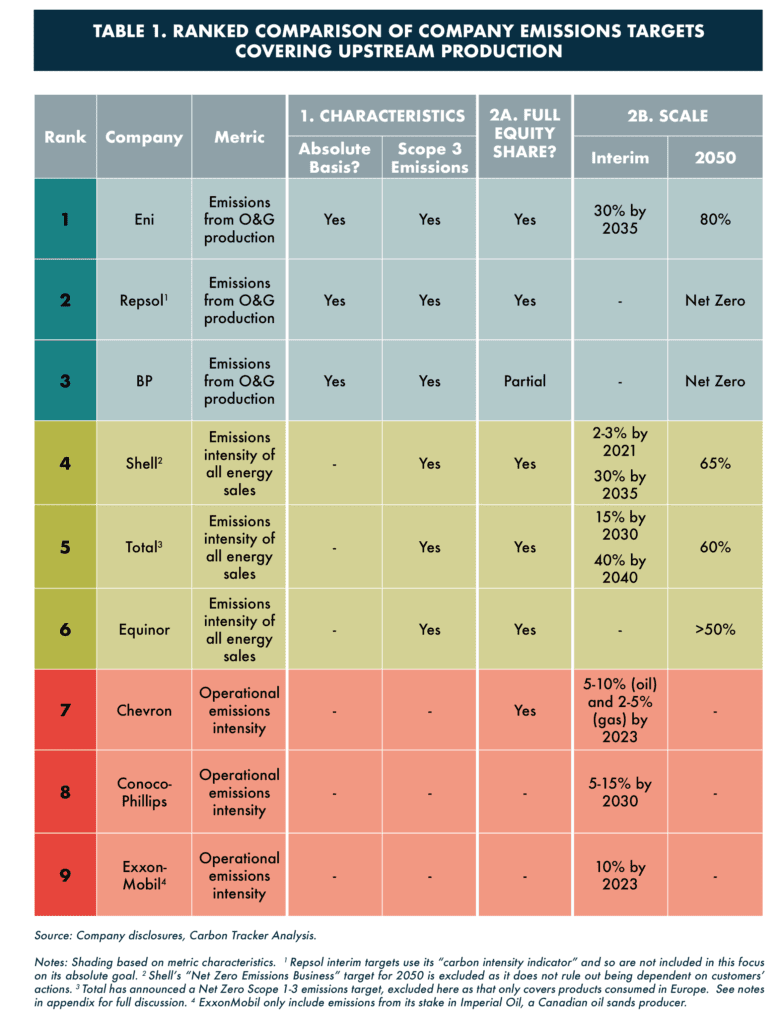 Read our op-ed in the Financial Times.
Key Findings
Climate targets in the oil and gas industry need to recognise the finite limits that the energy transition places on current business models and their investment decisions. Companies that continue to assume growth and sanction projects outside climate limits risk creating stranded assets, potentially destroying significant shareholder value.
We provide a relative ranking of climate goals for a selection of the largest oil and gas producers (7 majors plus Equinor and Repsol) based on our assessment framework which we describe in detail.
We expand on our three "Hallmarks of Paris Compliance" as pre-requisites for company goals to link to a finite climate budget. To achieve this structural link, ambitions must be framed on an absolute basis, cover scope 1, 2 and 3 emissions, and account for activities based on a company's full equity share.
An intensity approach to target-setting fails to link to finite climate limits. Targets which are set on an "all-energy" basis can also mask oil and gas production growth in the short to medium term.
Interim targets are critical to ensure timely action, and that the emissions pathway followed fits with Paris goals.
Not all "net zero" targets are equal among recent climate announcements. There are key differences in the metrics used, the scope and extent of emissions covered, and the emissions pathway followed.
We find a three-tier approach to emissions targets:
Eni, Repsol and BP – Scopes 1, 2 and 3; absolute basis to upstream ambitions.
Shell, Total and Equinor – Scopes 1, 2 and 3; intensity approach to goals.
Chevron, ConocoPhillips and ExxonMobil – Scope 1 and 2 emissions only.
Eni tops our ranking based on its structure, despite the scale of ambition not reaching net zero. Its upstream targets fulfil the three Hallmarks, and it has a significant interim target (30% reduction in absolute upstream emissions by 2035).
ExxonMobil brings up the rear as its target covers upstream emissions alone, and even then it only covers assets operated by Imperial Oil, a Canadian oil sands company in which it has a majority stake. This fails to acknowledge the impact that reduced demand for fossil fuels will have on its fundamental business.
An industry-standard approach to reporting needs to be adopted. Almost every ambition is framed differently, making comparison challenging; we therefore encourage, where possible, the development of consistency around the calculation and reporting of climate metrics.