Key Resources
Looking for more information? Here's everything you should need.
Report – Korean Translation
South Korea needs to phase-out unabated gas by 2050 in a Paris-aligned scenario or potentially risk $60 billion in stranded assets
As much as 13.7 GW of coal capacity may be retired between now and 2034 and risks being replaced with gas power.
If these replacements take place as proposed, there is an increased risk the South Korean government will compromise its ability to meet the temperature goal in the Paris Agreement. This reality also conflicts with the Korea's ruling Democratic Party plan to achieve net-zero carbon dioxide emissions by 2050.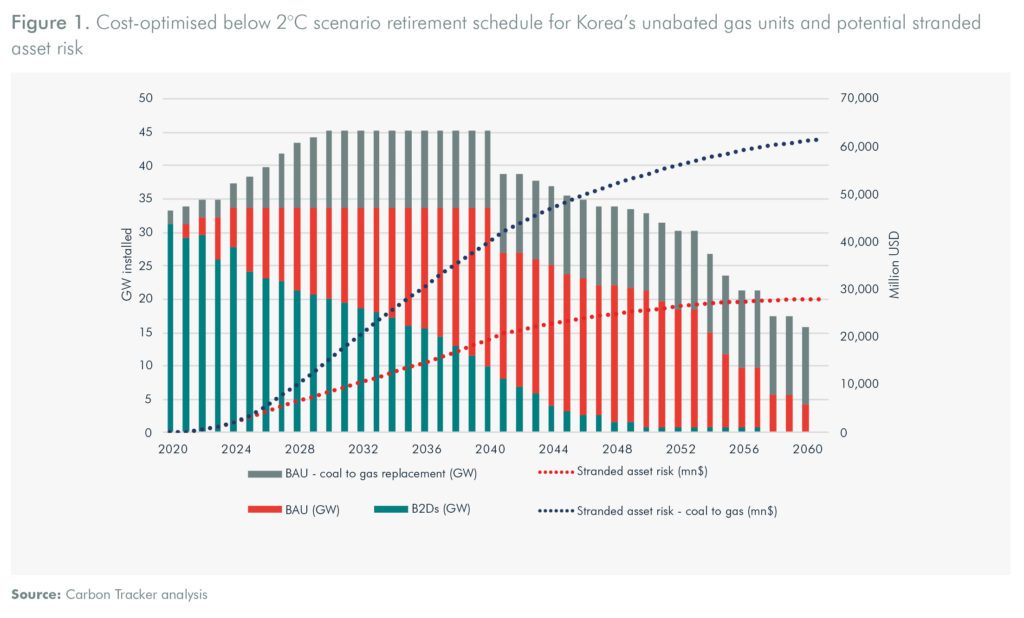 KEPCO's generation companies are over compensated relative to Independent Power Producers (IPPs) in South Korea
Korea Electric Power Corporation (KEPCO)'s disproportionally benefits from market structures despite having older and thus more inefficient gas units and consequently have lower capacity factors than privately-owned IPPs. For this reason, KEPCO's gas units have higher operating cashflows than IPP units.
Peak not baseload: New gas power uncompetitive with new renewables today and existing gas as early as 2023
The Levelised Cost of Electricity (LCOE) of offshore wind, utility-scale solar PV and onshore wind are already cheaper than the LCOE of gas, while the LCOE of solar PV plus storage could be lower in 2028. Crucially, the LCOE of offshore wind, utility-scale solar PV and onshore wind could be cheaper than the Long-Run Marginal Cost (LRMC) of existing gas units by 2024, 2023 and 2025, respectively.
These findings underscore an important investment signal: gas should not be built for baseload supply, but rather periods when variable renewable energy is unavailable.
High level policy recommendations for South Korea include:
Reform market regulations to avoid overcompensating KEPCO's generation companies
Avoid the temptation to replace existing coal with new gas or risk stranded assets
Webinar 21 April 07:00-10:00
Join Matt Gray, co-head of Power & Utilities, to discuss our report Whack-A-Mole on South Korea.