Key Resources
Looking for more information? Here's everything you should need.
Press release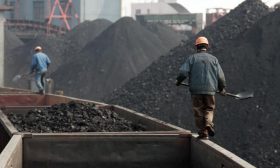 Up to US$21 billion annual spend on thermal coal assets reflects high risk strategy of China's coal...
Read More
Key Quotes
Anthony Hobley, Carbon Tracker Chief Executive Officer: "China's 'Great Coal Cap' could feasibly peak China's thermal coal demand in the near-term, presenting a significant risk of asset stranding for those investing on a business as usual future. Questions need to be asked whether committing billions of capital to increase thermal coal supply in a shrinking market is a wise use of capital"
Jessica Robinson, ASrIA's Chief Executive Officer: "China is responding to its environmental challenges in part by diversifying its power generation away from burning thermal coal – investors need to dispel any belief that Chinese coal demand is insatiable and integrate this transition into their decision-making by stress-testing the relative risks of different future demand scenarios"
Luke Sussams, Carbon Tracker's Senior Researcher and Lead Author: "Investors in Australian and Indonesian exporters of coal, in particular, must factor much lower Chinese demand into their demand and price forecasts. If China becomes a zero imports market, which is possible, there is a noticeable lack of any viable alternative growth market for seaborne traded coal. Where will Australia's US$50 billion of thermal coal go instead"
Andrew Sheng, Fung Global Institute's Distinguished Fellow: "There is significant potential value-at-risk associated with a failure to recognize the impact of early peaking demand (for fossil fuel) within the sector. This has serious risk implications for investors, energy companies and policy-makers alike – especially as China's power sector transitions to a cleaner future and the world becomes serious about climate change."
Since the turn of the century, China has almost single-handedly been driving global thermal coal consumption growth. Changes in the regulatory landscape and the competitiveness of different power sources suggest that future demand may not follow the same path. This could have significant financial implications for investors, regulators and civil society that do not foresee such changes.
What are the drivers leading many to predict the near-team peaking of China's thermal coal demand?
What is the scale of thermal coal reserves, potential reserves and power generation infrastructure at risk of becoming stranded in this scenario?
How much capital expenditure is being committed by China's coal sector to add to potentially strandable coal assets?
How does this translate to investor exposure to this risk through China's stock exchanges?
Who is most exposed to this risk?
What implications does this have for the international thermal coal market?
What actions can be taken by investors and other stakeholders to minimise their exposure to potential stranded assets and, instead, take advantage of China's transition to a more diverse power generation sector?
Key Findings
This report from Carbon Tracker and ASrIA (the Association for Sustainable and Responsible Investment in Asia) evaluates the environmental and economic regulatory drivers serving to slow China's coal demand growth to a potential peak.
The research goes on to reveal that this lower-than-expected Chinese coal demand could create significant stranded assets and wasted capital both for those within China's coal sector and international coal exporters.
The report was launched in Hong Kong on June 5th. To download the Chinese version of the report click here.
Partnering with us on the report are Simon Zadek, Co-Director, Inquiry into the Design of a Sustainable Financial System, and  ASrIA.
Click images for larger version