Key Resources
Looking for more information? Here's everything you should need.
Press release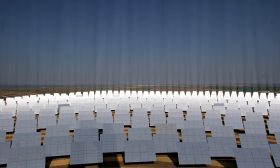 LONDON, 13th November 2014 -- Rural communities in Africa and India suffering most from a lack of modern...
Read More
Key Quotes
James Leaton, Research Director at Carbon Tracker: "Looking, as we have in depth, at the geography and economics of energy access, the rural poor are unlikely to be the saviours of the coal industry. Importing coal is not a good solution for Africa and India, meaning solving energy access is unlikely to halt the structural decline of the seaborne market for thermal coal."
Anthony Hobley, CEO of Carbon Tracker: "This shows how energy may echo telecoms where mobile networks have provided communications links without a wired telecom network and infrastructure being required – this is what we are seeing in the energy markets in the developing world"
Mark Fulton, Analyst and Advisor to Carbon Tracker: "As the costs of photovoltaics reduce and battery technology improves, this can provide a growing share of hybrid solar/diesel generator solutions which suit local small enterprises as well as rural settings and include more locally manufactured elements over time."
This Carbon Tracker report shows how rural communities in Africa and India suffering most from a lack of modern energy can exploit the falling costs of renewable power, to access electricity without the need for expensive grid transmission networks.
The report's findings are in stark contrast to the views of the global coal industry, whose biggest publicly traded company Peabody Energy Corp, maintains coal is "essential to meet the scale of Africa's desperate need for electricity."
Key Findings
Energy access is primarily a rural issue
84% of those without energy access live in rural areas. Our analysis focuses on sub-Saharan Africa and India which account for 48% and 24% of those without energy access respectively.
Grid costs are prohibitive for coal in rural areas
When the cost of introducing grid infrastructure is included in cost comparison, off-grid or mini-grid renewables are cheaper than a new grid and coal power station. The IEA see 59% of energy access being supplied by mini-grids or off-grid to deliver universal access by 2030; the majority of grid connections relate to urban areas due to additional costs for each kilometre of grid extension.
Indicative levelized costs of electricity for on-grid, mini-grid and off-grid technologies in sub-Saharan Africa, 2012

Source: IEA
Coal is not distributed well to serve Africa's energy poor
Only 7% of the people in sub-Saharan African countries who lack access to energy live in countries with producing coal assets. The coal production is concentrated in the very south of the continent and transport links are poor. This suggests that many African countries with energy access issues are unlikely to follow the coal-based industrialisation seen historically in other parts of the world.
Percentage of population without energy access in Sub-Saharan countries with producing coal assets

Renewables are improving lives now
Even in places that currently lack a centralized grid, low-cost off-grid interventions are enabling households with initial access to the "energy ladder" at a fraction of the cost of grid extension, providing immediate benefits. This may only provide a few hours of light or mobile phone charging initially, which does not register as full energy access, but contributes to education and livelihoods.