Despite heavy restrictions and security at the Egypt conference, a record number of Civil Society organisations and activists have taken a stand against fossil fuels at COP27 in Sinai.
This amplified voice is clear evidence that the civilian global community is growing ever more concerned about climate change and its effects on our planet. With over 33,000 delegates registered, Sharm el-Sheikh is the second most well-attended climate COP in history. UAE nationals lead the pack with over 1,000 members, alongside an overall increase in industry representatives, joining official government delegations.
Although on the surface, greater engagement from industry is cause for optimism, concerns have been raised that lobbyists will deter progress at the crucial climate change conference. A report by the climate awareness group 'Kick Polluters Out' shows that the number of attendees registered from the fossil fuel industry far exceeds the number of representatives from the largest African delegations.
With the number of fossil fuel lobbyists attending COP27 climbing steeply – more than twice the number of individuals from indigenous delegations – those with a clear economic interest in blocking or delaying the energy transition could significantly frustrate crucial talks. With such overwhelming numbers of bad actors, there is a risk that the voices of those affected most by the global warming impacts of their industry are drowned out.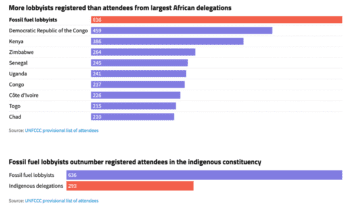 Kick Polluters Out review of UNFCCC COP27 Delegations
"The influence of fossil fuel lobbyists is greater than frontline countries and communities. Delegations from African countries and indigenous communities are dwarfed by representatives of corporate interests directly at odds with the level of systemic change needed to slow the climate crisis."= Kick Polluters Out (Big Polluters at COP27).
Kick Polluters Out, a group comprising of over 450 international climate organisations, call on the UNFCCC to urgently establish an Accountability Framework, to prevent members of the fossil fuel industry in from influencing or  undermining  climate policy. For a just and equitable transition, NGOs and those 'those on the frontlines of the climate crisis' need their voices heard in a meaningful way.
Security concerns were flagged early by human rights organisations about the possibility of activist arrests or digital surveillance, in particular through the event official app, alongside concerns over transport links and prohibitive costs. However, this has not deterred the hardiest of campaigners.
The #FossilFreeCOP27 campaign, led by Climate Action Network-International (CAN), is calling for an end to all use of fossil fuels by 2050. CAN is a global network of over 1800 civil society member organisations around the world that have committed to fight the climate crisis, through a just transition. Earlier in 2022, CAN were actively involved in persuading Germany to take more ambitious climate action as part of their campaign to prevent public money supporting fossil fuel investments. Post COVID-19 pandemic, the group focus on how governments can address multiple crises, including climate urgency, in a fair way; through transforming economic, social and political systems.
CAN's joint Big Shift Global campaign and Dutch lobby group Recourse both strongly criticized the Multilateral Development Banks' (MDBs') Joint Statement on Climate at COP 27 made last week. The MDP statement omitted references to investment into fossil fuels, which currently exceeds investment into renewables. The groups also noted that the statement failed to include the specified Paris Agreement target of 1.5 degrees or members' climate alignment methodologies. Thus, lofty statements on 'achieving true momentum on climate action' may lack quantifiable goals and planned pathways.
Emissions Exposed
COP27 'Finance Day' focused largely on fossil fuels and the energy transition. Alongside protestor calls to stop funding fossil fuels, developments in artificially intelligence technology have catalysed the launch of a new, independent emissions tracker, Climate Trace.
The initial report, which collates satellite data on emissions released, analyses locations of over 70,000 CO2 contributors. It found that half of the 50 largest polluters are oil and gas fields.
This follows the launch of the Global Registry of Fossil Fuels earlier in 2022 by Carbon Tracker and Global Energy Monitor, the first public database of fossil fuel production and reserves worldwide – designed to track how use of those reserves impacts the global carbon budget. Carbon Tracker founder, Mark Campanale, also joined panels at COP27 talking about the energy transition and its impacts for the finance sector, away from fossil fuel dependence.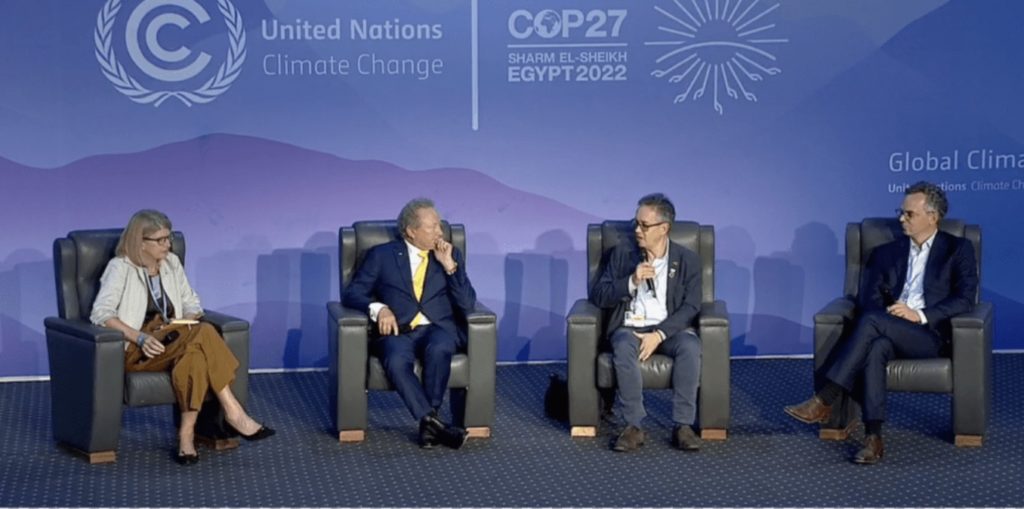 Mark Campanale, Founder of Carbon Tracker, speaking at FTLive panel. Alongside Cornelius Pieper, MD, Boston Consulting Group and Andrew Forrest, Founder & Executive Chairman Fortescue Metals Group. Moderated by Pilita Clark, FT climate journalist.
German youth activist Luisa Neubauer criticised ongoing fossil fuel investment in her UNICEF press conference speech, imploring leaders: "Don't come here and speak of climate justice as fossil fuel funding is exploding."
Whilst the "Glasgow Climate Pact", signed at COP26 last year, explicitly mentioned fossil fuels, with a commitment to move "towards the phasedown of unabated coal power and phase-out of inefficient fossil-fuel subsidies", recent analysis from UNEP reveals a wide emissions gap between country climate commitments (Nationally Determined Contributions) and those required to limit warming to 1.5°C.
Climate TRACE ascertain that emissions from the oil and gas sector have been "significantly underestimated", to the extent that overall emissions footprint could be up to three times higher than reported
Calls for greater accountability and reporting are amplifying across the climate conversation and COP27 focus. Carbon Tracker's 2022 report 'Still Flying Blind' demonstrated that companies pledging climate action 100+ engagement failed to disclose the true impacts of climate change risks, in their financial statements. Despite some improvements in disclosure since the Glasgow summit in 2021, many companies are not providing sufficient information to meet relevant standards.
This follows a review by GFANZ, the Glasgow Financial Alliance for Net Zero created at COP26, which found that 60% of the financial sector have still not made net zero commitments. GFANZ released an updated framework at COP27, with the aim of supporting the financial sector through the transition to net zero. The ultimate goal is to remove reliance on fossil fuels; which includes an inevitable shift in finance away from oil and gas investments.
At the launch, Mark Carney, Co-Chair, GFANZ and UN Special Envoy on Climate Action and Finance, said: "accountability extends to governments and international financial institutions who—based on the real-world experience of GFANZ members—must now deepen their efforts to address climate change."