Event Details
16 February 2023
Online

Start 11:00
End 12:00
16 February | Online
"Automakers must transition to produce low and zero emission vehicles, for the survival of their business as a going concern." 
The Automotive Industry's Net Zero plans are not just a reaction to the climate crisis, they are a survival plan. 
UK New Vehicle Sales – BEV and ICE Market Share – Adoption S-Curve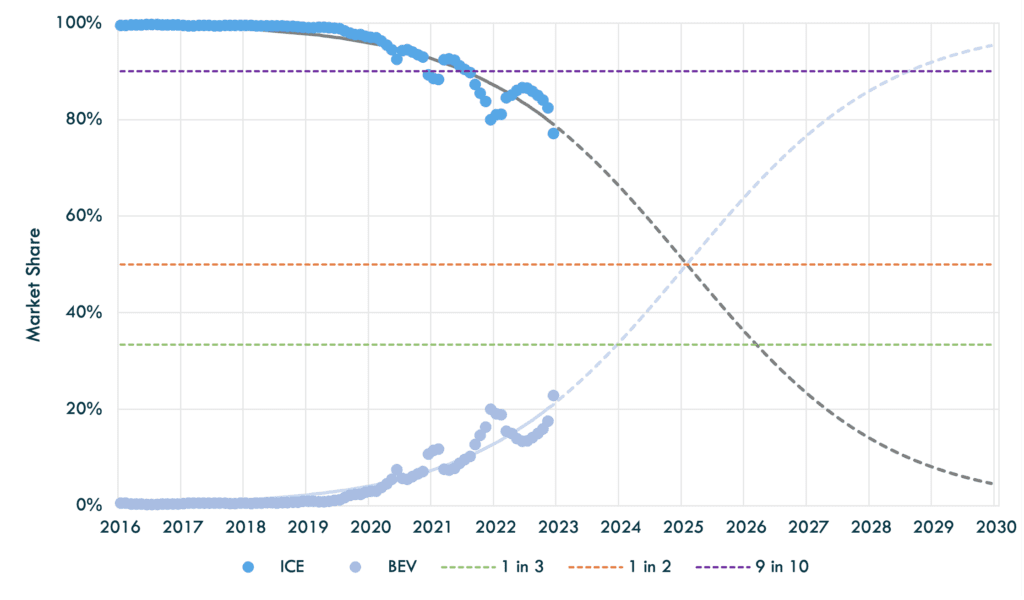 Source: New AutoMotive, Carbon Tracker. Note: The individual data points show actual new sales market share. Sales are averaged over a 3-month rolling period. The S-Curves are plotted using a logistic function with the projection shown with a dashed line. 'ICE' is defined as all vehicles with an internal combustion engine, including hybrids.
The Automotive Energy Transition will not be linear and leading data is beginning to show that it is beginning to follow the classic S-Curve; automakers who are currently behind that curve are in grave danger of their product line-up becoming stranded when coupled with increasingly strict vehicle emissions policy. 
Join us for a panel discussion on the switch to e-mobility for automakers. 
 The 'Electric Drive to Survive' webinar seeks to help investors and industry observers identify how to analyse the automotive energy transition and will examine: 
The

Speed

of Transition: how quickly automakers are switching to e-mobility? 

 

Policy pitfalls

– the loopholes: where are they, and why?

 

Winners and Losers

: who are the leaders of the pack and who are the laggards? 

 

Climate

alignment

: relative alignment of automakers to the Paris Agreement?

 
Panel Speakers: 
Ben Scott, Carbon Tracker

Ben Nelmes, New Automotive

 

Lauren Pamma, Green Finance Institute

 

Claire Miller, Octopus Electric Vehicles
Moderated by Harry Benham, New Automotive.