Repsol has seemingly upped its emissions cutting game
In early October, responding to shareholder pressure, Repsol announced a new target to reduce its absolute scope 1-3 emissions by 30% by 2030. The company also tightened previously announced carbon intensity and methane targets.
When we ranked Repsol's emissions strategy earlier this year in our Absolute Impact 2021 report, the absence of short-term absolute emissions targets put the company sixth out of the ten leading oil and gas companies we assessed. The company's update appears to have fixed this key shortcoming – and if we were to rerun the analysis today with our current methodology, Repsol would likely rise to the top tier of our ranking table (see Figure 1). While that may sound like progress, on closer inspection there are plenty of issues which call into question whether strong headline targets are enough.
One issue is the continued use of avoided emissions 'credits'; another is their carveouts for certain scope 3 emissions. Moreover, the company's plans to sanction a high CO2 gas field in Indonesia raises important questions around the reliance on carbon capture to meet emissions goals.
As more companies commit to net zero goals the finer details increasingly matter, reinforcing our view that emission targets should be viewed as only one part of a company's Paris alignment.
Figure 1 – Ranked comparison of oil and gas company emissions targets, taken from our Absolute Impact 2021 report (May 2021).  Repsol's updated emissions targets could move the company up the ranking.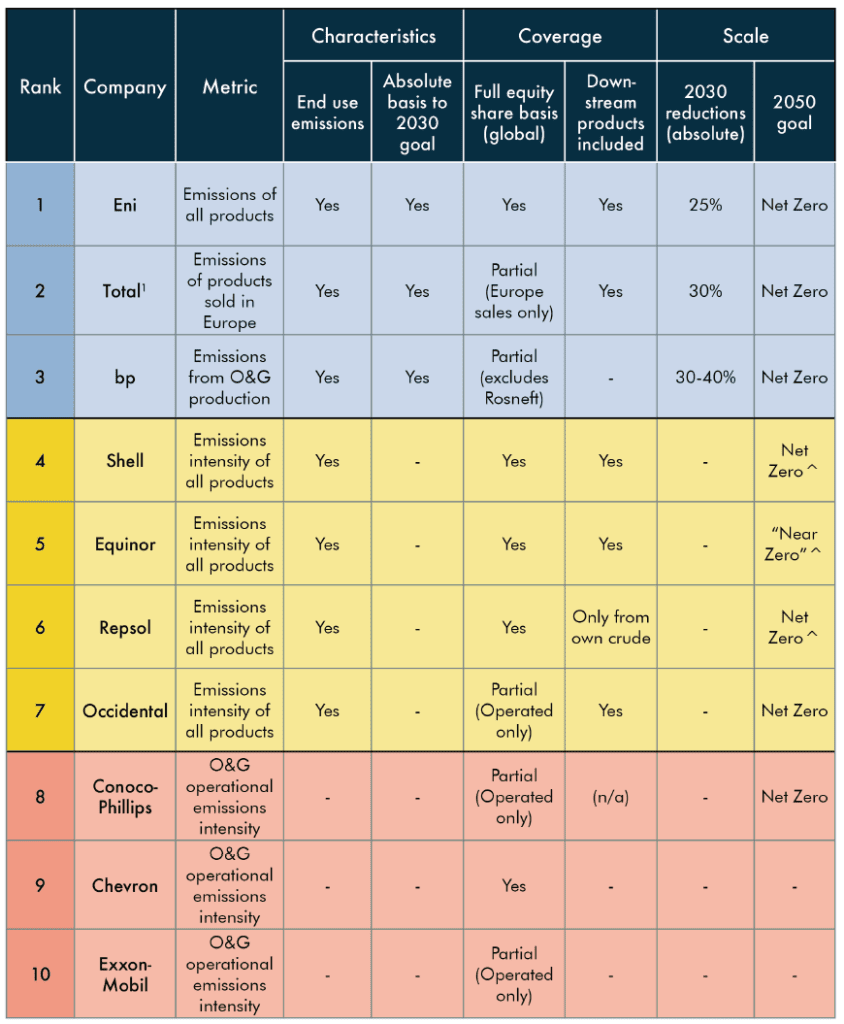 Source: Company disclosures, Carbon Tracker analysis
Intensity-based metrics leave room for weaker action
Although Repsol has increased its ambition on absolute emissions, its preferred decarbonisation metrics remain a series of carbon intensity targets for 2025, 2030 and 2040. Intensity targets allow companies to ostensibly decarbonise by selling more energy without necessarily reducing absolute greenhouse gas emissions; we therefore prefer absolute targets, which leave less room for manoeuvring.
Repsol further complicates matters by using their own Carbon Intensity Indicator (CII) metric that includes what it calls a 'location-based emission shift' credit (previously known as the Low Carbon Power Bonus). This allows Repsol to award themselves 'avoided emissions' where, for example, their gas is deemed to replace coal-fired power generation. These credits are then subtracted from their overall emissions. This is clearly problematic as it leaves Repsol to determine what counts as avoided emissions. Repsol has said that the credit will "change and probably reduce over time, as the electricity mix of each country progressively decarbonizes" but it remains a black box calculation that complicates what should be a simple efficiency metric.
Given over a third of Repsol's emissions intensity reduction by 2030 is expected to be accounted for by these location-based emission shift credits, a large portion of the company's emissions reductions may end up being entirely theoretical in nature.
Figure 2 – Repsol Carbon Intensity Indicator (CII) formula. Note the 'Location-based emission shift' subtracted from the top line.

Source: Repsol
New absolute targets come with exclusions and question marks
The new 30% absolute target covers only Repsol's upstream production and excludes third party crudes processed by its refineries – unlike Shell, for instance, which covers third-party products in its targets. Repsol defends this carve out as an effort to avoid double counting within the industry, but that is arguably an unnecessarily siloed perspective on climate action, while making the metric difficult to compare against peers.
Figure 3 – Repsol's updated emissions targets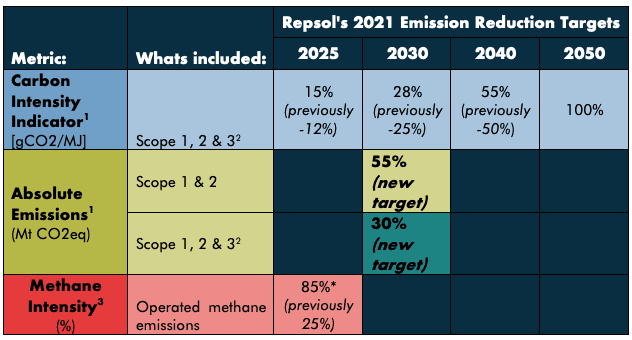 Source: Repsol, compiled by Carbon Tracker
Notes: 1. 2016 baseline.  2. Scope 3 emissions based on the use of the products from our upstream production. 3. Operated assets vs. 2017 baseline.  *Repsol also has a 2025 methane emissions intensity target of 0.20% (operated methane emissions / marketed gas), previous target was 0.25%.
More worryingly, the 30% absolute target closely resembles the 28% intensity target, which in turn is underpinned by the company's internally generated avoided emissions credits, explained above. This suggests that Repsol may count avoided emissions towards its absolute emissions target – a clear no-go in our view. We encourage the company to clarify its position on this issue – and clearly, to stop counting avoided emissions against its absolute targets if that proves to be the case.
Repsol relies on CCS to justify sanctioning a high CO2 gas field
Finally, carbon capture and storage (CCS) is another important caveat. The company plans to sanction Sakakemang, a giant 2 tcf gas field in Sumatra with a high CO2 content (26%), which Repsol intends to remove using CCS. Crucially, this CCS won't capture any end use emissions, but merely excess CO2 in the gas itself that would otherwise make it unmarketable. In this regard it resembles Chevron's Gorgon CCS project in Western Australia, which arrived three years behind schedule and has so far failed to capture anywhere near as much CO2 as promised.
Sakakemang will be Repsol's first CCS project and thus poses both operational and reputational risk. Repsol's framing of the project as a 'low carbon initiative' is questionable when it is ultimately a high-pollution project whose green credentials pivot on a technology with a dubious track record. Given that CCS only adds costs to fossil fuel production at a time when renewables are on the opposite trajectory – not least in emerging markets – it seems like a weak recipe for reducing transition risk.
Although there are clearly elements to commend in Repsol's energy transition strategy, its insistence on the use of complicated metrics and opaque carbon credits is cause for concern. Arguably, new projects should also not be justified by coupling them with CCS. Investors should engage robustly with Repsol on these points ahead of an advisory vote on the company's climate strategy at the 2022 AGM.