Key Resources
Looking for more information? Here's everything you should need.
Press release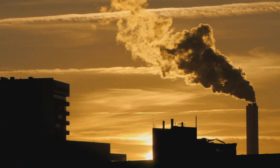 Over 70% of some of world's biggest corporate emitters failed to disclose the effects of climate risk in...
Read More
Key Quotes
Barbara Davidson, senior analyst at Carbon Tracker and lead author of the report, said: "Based on the significant exposure these companies have to transition risks, and with many announcing emissions targets, we expected substantially more consideration of climate matters in the financials than we found. Without this information there is little way of knowing the extent of capital at risk, or if funds are being allocated to unsustainable businesses, which further reduces our chances to decarbonise in the short time that remains."
Rob Schuwerk, executive director, Carbon Tracker North America and co-author of the report, said: "It is disappointing to see companies acknowledge that the energy transition is likely to adversely impact their results, to have their auditors identify forward-looking assumptions as critical audit matters subject to significant uncertainties, and yet see little to no disclosure about the assumptions underpinning the accounts, much less an understanding of how management and auditors believed those assumptions to be reasonable."
Natasha Landell-Mills, head of stewardship at Sarasin & Partners said: "Each of these fossil-fuel-intensive companies is basing their reported profitability, assets and liabilities on the world failing to control climate change. Nations gathering at COP26 in Glasgow this November could make clear that all companies must deliver financial statements consistent with achieving net-zero carbon emissions by 2050. Along with existing plans for mandatory reporting of climate-related disclosures, this could drive system-wide shifts in capital. Until then, companies and their auditors will be free to continue with large-scale greenwashing."
Morgan Slebos, Director of Sustainable Markets at the PRI said: "It is clear that investors aren't getting the information they need to quantify climate risks in their portfolios and make informed investment decisions. The sobering fact is that many of the world's biggest corporate emitters failed to disclose the effects of climate risk in their 2020 financial statements. Companies need to incorporate climate matters in their financial statements, the audit sector must provide better transparency on climate-related matters in their audits, and investors should engage investee companies on climate-related matters for their 2021 accounts."
Tracey Cameron, Senior Manager, Corporate Climate Engagement - Ceres said: "The energy transition is here, but transparent financial reporting for climate risk has not kept pace, leaving investors unable to manage portfolio risk. Climate risk and financial risk are inseparable, yet even the companies most vulnerable to impacts of the energy transition fail to make that link in their financial reports. Audit committees, auditors and regulators need to urgently rise to the challenge and require companies to fill in the gaps."
Investors are Flying Blind as over 70% of reviewed companies and 80% of auditors fail to disclose climate-related risks in the financials
This report examines whether 107 publicly-listed carbon-intensive firms (and their auditors) considered material climate-related risks in financial reporting. At the same time the study also assesses whether investor concerns about Paris-alignment of assumptions and estimates have been addressed. The study covered a range of sectors: 33% Oil and Gas, 17% Transportation, 13% Utilities, 7% Cement, 7% Consumer Goods and Services, and 23% Other industrials (including mining, chemicals and steel).
In 2019 and 2020 global accounting[2] and auditing standard-setters clarified that material climate-related risks should not be ignored in accounts or in audits. Another concern raised by the report is the lack of consistency across company reporting. 72% of companies showed no evidence of follow through from other discussions of climate risks or emissions targets to their treatment in the financial statements, or explained any differences.
Despite significant financial risks faced from the climate crisis, and net-zero pledges made by many we found little evidence that companies or their auditors considered climate-related matters in the 2020 financial statements.
Figure 1: Overall results – considerations of climate matters in financial statements and audit reports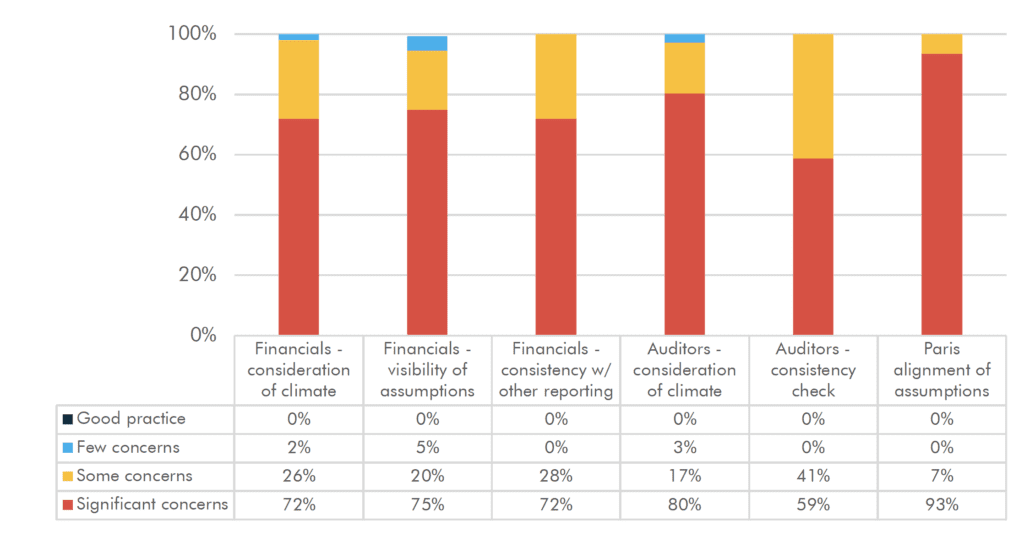 Source: Carbon Tracker and CAP team analyses
Compared to other sectors profiled, oil and gas companies provided the most evidence of, and transparency around, consideration of climate-related matters in their financials and audit reports. These companies were the most visible in terms of providing/detailing the assumptions used, even if they did not always consider climate in those assumptions, nor align them with preferred Paris outcomes.
Figure 2: Consistency in considering climate targets – O & G companies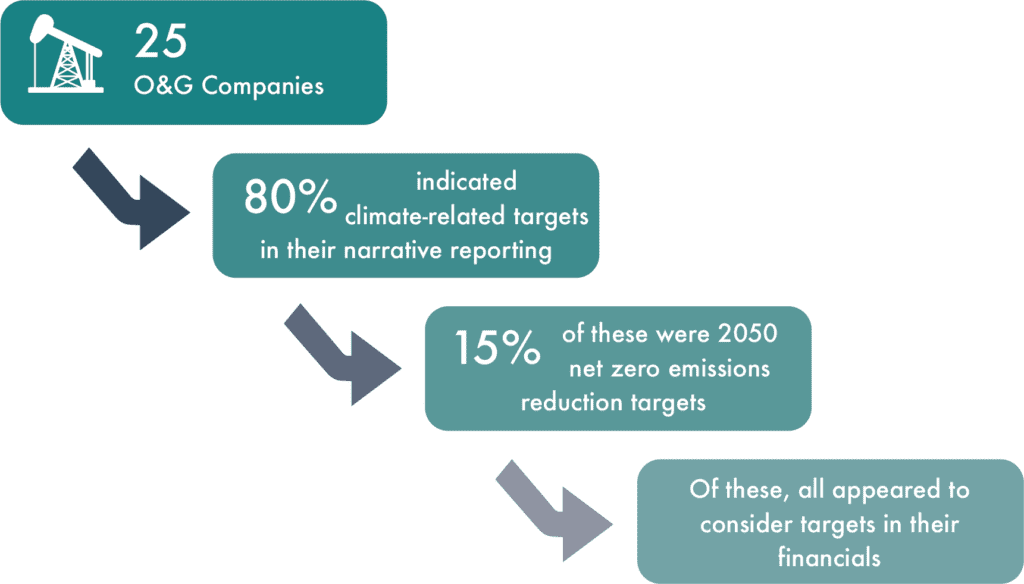 Source: Carbon Tracker analysis and graphic
Key Findings
There is little evidence that companies incorporate material climate-related matters into their financial statements.
Most climate-related assumptions and estimates are not visible in the financial statements.
Most companies do not tell a consistent story across their reporting.
There is little evidence that auditors consider the effects of material climate-related financial risks or companies' announced climate strategies.
Even with considerable observable inconsistencies across company reporting ('other information' and financial statements), auditors rarely comment on any differences.
Companies do not appear to use 'Paris-aligned' assumptions and estimates.