Key Resources
Looking for more information? Here's everything you should need.
Press Release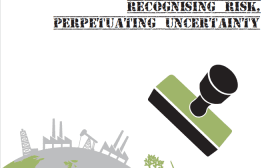 London, 14 October 2014: New research by the Carbon Tracker Initiative (CTI) today reveals that 99% of...
Read More
In partnership with Ceres, CDP and CDSB, Carbon Tracker has assessed the responses from over 80 fossil fuel companies to a questionnaire sent to over 200 listed entities, looking at how they report on climate risk.
Climate-related risks threaten investors. 
An energy transition is underway as stakeholders increasingly recognise the potential severity of future climate-related constraints. If the resulting potential downside risks to future fossil fuel demand are not disclosed in company disclosures and regulatory filings, current and prospective investments run the risk of destroying shareholder value or depressing group returns – what Carbon Tracker term wasting capital in stranded assets.
Key Findings
99% of sampled fossil fuel companies recognise it's risky business… 
This report analyses a sample of 81 coal, oil and gas companies. 86% of companies consider climate change to pose physical risks, while 99% of the sample deem climate-related regulation to be a risk.

…But perpetuate uncertainty with a lack of implementation 
In spite of this high level of awareness of climate-related risk, this analysis reveals that companies are failing to connect the dots when it comes to applying this knowledge through risk management measures. 80% of oil and gas companies did not display evidence of running climate scenario analyses of different temperature increases due to climate change, with only 10% of companies going on to stress-test projects against conditions similar to a 2°C future.
We find overall, that the fossil fuel sector does not disclose how it proposes to deal with the transition to a low carbon economy, or how business models will be affected by a climate goal of 2 degrees warming.  Financial regulators have yet to properly address the adequacy of climate risk disclosures made by coal, oil and gas companies in their filings.  The data released in questionnaire responses to investors through the Ceres/CTI  investors letters and CDP questionnaires show an industry unprepared to respond in depth to how the clean energy transition will affect business viability.