Key Resources
Looking for more information? Here's everything you should need.
Video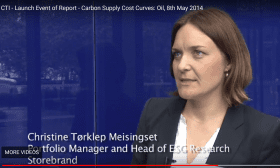 Watch the video of Carbon Tracker's recent launch event of our report: "Carbon Supply Cost Curves:...
Watch Video
Press realease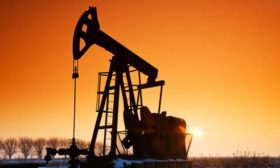 $1.1 trillion of oil investment over next decade needs to be challenged by investors CTI carbon supply...
Read More
Key Quotes
Christiana Figueres, Executive Secretary, United Nations Framework Convention on Climate Change (UNFCCC): "The carbon cost curves report enhances the ability of investors to hedge against risks and capture rewards in a carbon constrained world. Governments have agreed to limit global temperature rise to less than 2 degrees Celsius. Governments have also agreed to put in place the pathways to deliver this with a new and universal agreement in Paris towards the end of 2015. In order to reach this goal, large amounts of coal and oil will have to stay in the ground, unburnt. Carbon Tracker's new Curves report indicates where in respect to the oil industry some of those stranded assets and some of those red lines will lie."
Christine Tørklep Meisingset, Portfolio Manager and Head of ESG Research, Storebrand: "As a pension provider and long term investor, understanding climate risks and opportunities is a prerequisite for securing long term returns. Providing standardized data across peers, this report improves our ability to understand risk exposure of potential investment targets, as well as adding to our evidence that sustainability research is highly relevant to financial performance today and perhaps even more so in the future."
Paul Spedding, ex-Global Co-Head of Oil And Gas, HSBC: "Many investors are concerned about the growing amount of capital that the oil companies have thrown at low return, carbon heavy projects. The majors' strategies need to be challenged. As this report shows, returns are falling and costs are rising. To reverse this, a greater focus is needed on higher return, lower cost assets. If this means lower capital investment and higher dividends or buybacks, so much the better. This analysis is important as it provides the data investors need to challenge proposed investments on the basis of returns as well as carbon content."
Anthony Hobley, CEO, Carbon Tracker Initiative: "CTI's research has created a new debate around climate change and investment. Numbers are the bedrock of financial markets and it is the numbers that allow you to move from the general to the specific in the investment world. This analysis is another critical tool from CTI to help financial experts identify carbon investment risk in the capital markets today."
Andrew Logan, director of the Oil & Gas program at Ceres, which is working with Carbon Tracker Initiative to coordinate investor engagements with fossil fuel companies on these issues: "Companies are poised to spend more than a trillion dollars by 2025 on high-cost projects that don't make sense in a world that takes the economic threat of climate change seriously. This would be a bad bet, especially when we already know the world needs to invest an additional trillion dollars per year in clean energy by 2030"
Anne Stausboll, Co-Chair of the Ceres Board of Directors and CEO of the California Public Employees' Retirement System: "This report will be useful to investors engaging oil companies on whether they are using shareholder capital prudently as we transition to a lower-carbon future"
This report  is a risk analysis which provides a tool for the majority of investors who cannot simply divest, so they can understand their risk exposure and start directing capital away from high cost, excess carbon projects.
The report – and the accompanying technical papers produced in collaboration with Energy Transition Advisors can be downloaded from the Key Resources box.
Key Findings
Challenge demand assumptions
Conducting risk analysis to understand the implications of lower demand, price and emissions scenarios needs to be an open process. These stress tests can inform investor understanding and engagement on capex plans. Demand may be affected by a range of factors including supply costs, air quality standards, technological advances and carbon regulation.
Understand exposure on the carbon supply cost curve
Investors can consider a range of demand scenarios and then determine which price bands of production cost they think are at risk. This oil price sensitivity is an important proxy for how well a company can adapt to a low carbon future.
The private sector plays a key role
Listed companies have more exposure to potential production than national oil companies, especially as you go up the cost curve. This shows how important the private sector will be in determining how far up the cost curve we go, and what emissions we produce. Differentiating on production costs paints a very different picture to just looking at overall statistics on reserves and resources ownership.
Majors can enhance value
The majors have large interests across the cost curve, reflecting the sheer scale of their interests, and the desire to be involved in any large developments. Reducing high cost options may be viewed favourably by the market as a way of cutting capex and maintaining dividends.
Independents are gambling on a high oil price
Smaller companies have high percentages of their potential capex over the next decade in high cost, high risk projects. Some specialists in deepwater or oil sands have 100% of capex requiring above a $95 oil price. A low demand scenario challenges the whole business model of these operators.
Oil sands, Arctic and Deepwater
There is an estimated $1.1trillion of capex earmarked for high cost oil projects needing a market price
of over $95 out to 2025. This is largely made up of Deepwater, Arctic, Oil sands and other unconventionals. This should be the start point for investors seeking to reduce their exposure to the high end of the cost curve.
VIDEO PRESENTATION:
For a more detailed overview of the report please view the key findings presentation by Mark Fulton, former Deutsche Bank Climate Change Advisors head of research.