Key Resources
Looking for more information? Here's everything you should need.
Key Term

In terms of carbon there is a clear overhang of fossil fuels beyond what can be burned in a 2°C scenario; there is a lively debate about the financial implications...
Read More
Key Term

Unburnable Carbon refers to fossil fuel energy sources which cannot be burnt if the world is to adhere to a given carbon budget...
Read More
Key Quotes
John Elkington, Executive chairman of Volans, co-founder of SustainAbility, a member of the IIRC: "Having written my first report on climate change in 1978, I have been dutifully tracking the evolving science for half a lifetime, but only on Friday 15 July 2011 did I truly feel that the climate, carbon and financial agendas had been spot-welded in a way that potentially brings all of this right home to people such as asset owners, rating agencies, brokers, analysts, investment bankers, accountants, data providers and financial regulators."
Will Oulton, Head of Responsible Investment – EMEA, Mercer; Vice-President of Eurosif: "I welcome this report as I believe, as reflected in Mercer's recent climate change and asset allocation work, that climate change constitutes an important source of risk that institutional investors need to monitor, manage and engage with policy makers on in order to protect the long term value of their investments."
Tessa Tennant, Executive Chair, ASRIA: "It's a triumph of a report.. a real milestone! Congratulations to all of you for pulling it off."
This is the original Unburnable Carbon report which pioneered the concept of the 'Carbon Bubble'.
This award-winning analysis by Carbon Tracker, published in Nov 2011, discovers that:
Already in 2011, the world has used over a third of its 50-year carbon budget of 886GtCO2, leaving 565GtCO2
All of the proven reserves owned by private and public companies and governments are equivalent to 2,795 GtCO2
Fossil fuel reserves owned by the top 100 listed coal and top 100 listed oil and gas companies represent total emissions of 745GtCO2
Only 20% of the total reserves can be burned unabated, leaving up to 80% of assets technically unburnable
In March 2012, Carbon Tracker's seminal report 'Unburnable Carbon' was Highly Commended in the City of London's Sustainability Awards.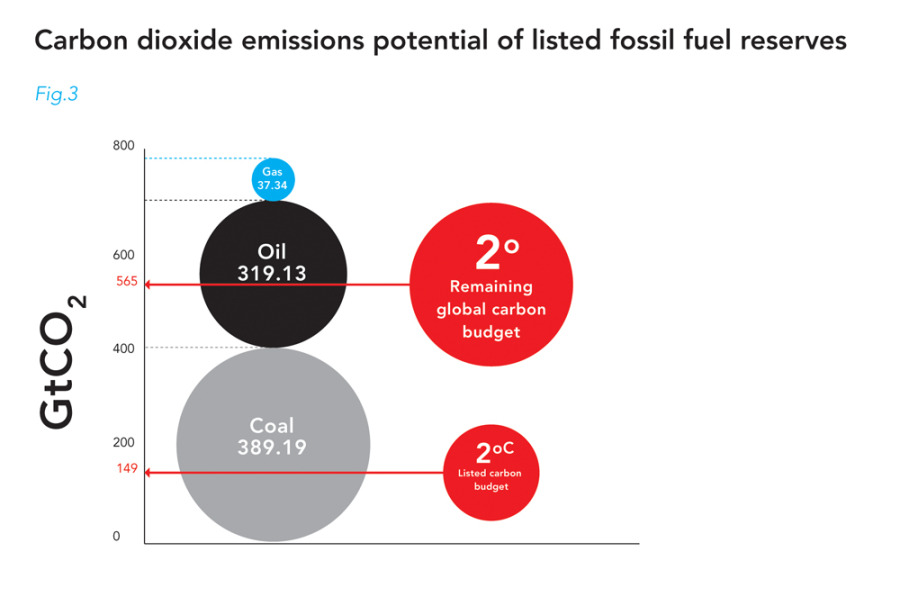 Key Findings
Distribution of reserves across exchanges
By allocating reserves to exchanges, it is possible to build up a picture of where reserves are listed. The map shows how the listings of coal, oil and gas reserves are distributed, indicating that capital markets are supporting the continued exploitation of fossil fuel reserves around the world.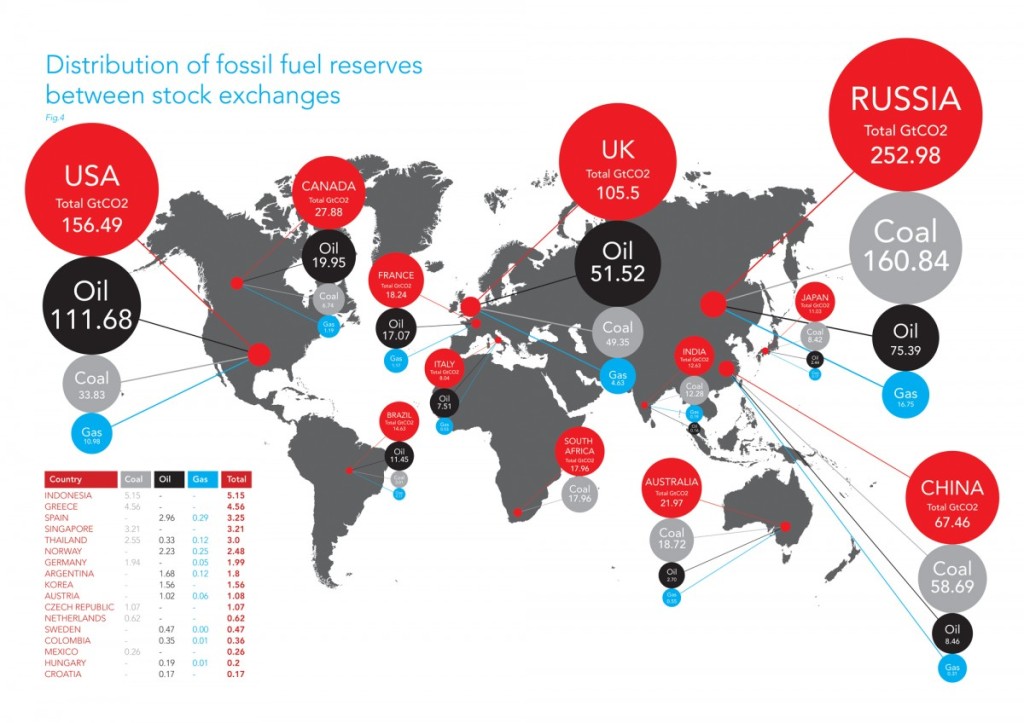 click image for larger version of map
Focus on the UK:
The analysis shows that London currently has 105.5 GtCO2 of fossil fuel reserves listed on its exchange, over ten times the UK's domestic carbon budget for 2011 to 2050, of around 10 GtCO2. This amount is only growing with the addition of companies such as Glencore, Vallar and Vallares, and the predominance of mining companies amongst new listings – 70% in the first half of 2011.
Relevance for investors
Asset owners typically invest large amounts in passive funds which track the market, or active funds which are benchmarked against market indices. This means many investors are backing huge fossil fuel reserves purely as a result of the structure of the financial products they invest in. The continued focus on short term returns perpetuates the status quo.
Regulation needed
Carbon Tracker argues that the new Financial Policy Committee, set up to monitor risks and bubbles in the financial system, must urgently address the "carbon bubble" and ensure regulators require greater disclose on reserves and carbon emission in order to assess this material risk to financial stability. Carbon Tracker recommends that this market failure is also considered by the Kay review into the structure of Equity markets to deliver a more long-term, transparent system.