Event Details
14 March 2022
Online

Start 11:00
End 12:30
14 March | Hybrid
Join global leaders, C-suite executives, sustainability professionals and policymakers to be part of the discussion in defining practical pathways to deliver on the ambitions of net-zero. Speakers include The Rt Hon Kwasi Kwarteng MP, Secretary of State for Business, Energy and Industrial Strategy; Kadri Simson, Commissioner for Energy, European Commission; Tim Gould, Chief Energy Economist, International Energy Agency; and Tahseen Jafry, Director of the Centre for Climate Justice, Glasgow Caledonian University.
Catharina Hillenbrand von der Neyen, our Head of Research, will be participating in the panel discussion Paris-aligned finance for a low carbon future.
This session will examine the economics of the energy transition and policy and financing strategies that will be required to accelerate and scale investment in low-carbon technologies and business models in advanced and emerging economies.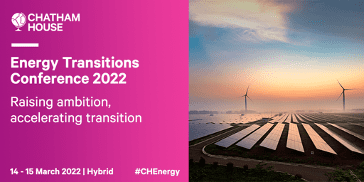 Agenda and registration details can be found here: https://cht.hm/3GIygIO