Mark Campanale, founder and executive chair of the financial think tank Carbon Tracker Initiative, has been awarded the 2021 Joan Bavaria Award for Building Sustainability into the Capital Markets. The announcement was made today at Ceres' annual conference Ceres 2021:Transform Tomorrow Today by the sustainability nonprofit and the Boston-based investment firm Trillium Asset Management.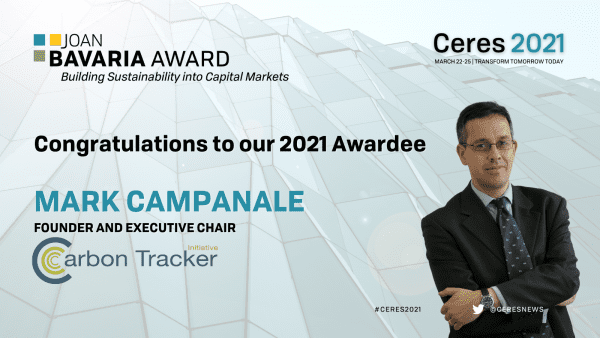 This prestigious award is given annually to honor inspiring global leaders working to move capital markets toward a system that balances economic prosperity with social and environmental issues. Campanale has been recognized for his lifelong dedication to aligning capital markets with the realities of the climate crisis  — most notably through advancing his "unburnable carbon thesis," which shines a light on  the financial risk that fossil fuel companies and their investors face from stranded oil and gas assets. He helps to make a clear fiduciary argument for the decarbonization of investment portfolios.
Campanale commissioned and edited the breakthrough report: Unburnable Carbon – Are the World's Financial Markets Carrying a Carbon Bubble?. Since then, he has worked to engage with the institutional investors, financial regulators and grassroots organizations to  put pressure on the fossil fuel sector and its owners to act on climate change. He and his team provide the world's largest investor initiative, Climate Action 100+, with independent analysis of energy companies' capital expenditures and output relative to a range of alternative climate change scenarios, a key component of the Climate Action 100+ Net Zero Company Benchmark, released last month.
Campanale also  co-founded Planet Tracker, another think tank, which provides  ground-breaking in-depth financial analysis around natural ecological barriers to growth faced by financial markets. This  work seeks to raise awareness of 'value-at-risk' to the financial community, and engages institutional investors and analysts to unlock and redirect the transformative power of capital markets to deliver on sustainable development objectives.
"Mark's important and enduring work in building sustainable capital markets is true to the vision of Ceres' founder Joan Bavaria, whom this award honors." said Mindy Lubber, CEO and President of Ceres. "His leadership and coalition building has helped lead to a transformational shift about how we think about the energy sector and its relationship to the health of our planet and the long-term stability of the economy."
Prior to Carbon Tracker, Campanale also worked for major institutional asset management companies in building sustainable asset management franchises. He is the co-founder of some of the first responsible investment funds. First at Jupiter Asset Management in 1989 with the Ecology Funds, followed by NPI with Global Care, the AMP Capital Sustainable Future Funds, and Henderson Global Investors' Industries of the Future Funds.
"Mark's contributions to sustainability have been game-changing," said Matthew Patsky, CEO of Trillium Asset Management. "He has placed his organizations at the heart of one of the most important global challenges in the world – the climate crisis. His work has given us the effective tools we need to engage in the fossil fuel debate as investors."
Campanale has served on the World Business Council for Sustainable Development working group on capital markets leading up to the 1992 Earth Summit and was a Member of the Steering Committee of UNEP Financial Sector Initiative (1999-2003). He is a Founder Director of the UK Sustainable and Responsible Investment Forum (UKSIF), 1990-2006, a member of the Advisory Board of the Gordon and Betty Moore Foundation's 'Conservation and Markets Initiatives' and Hon Treasurer of The Rainforest Foundation UK. He  is also an advisor to Consilium Capital, FaithInvest, and serves on the Advisory Board of Tribe Impact Capital. Mark is a Visiting Lecturer at the University of Cambridge's sustainable finance programme.
In receiving the award, Campanale said:
"I'm a passionate believer in the positive role investors can have in shaping the world around us. I was privileged to meet Joan Bavaria in the early 90's at the London launch of the 'Valdez Principles,' whose goal was to mobilize investors in holding companies to account for the environmental damage they cause. The current climate crisis reminds us of how much more work we have to do and initiatives such as Climate Action 100+ demonstrate the type of real action investors can take. I'm delighted to accept the Joan Bavaria award on behalf of the fantastic work accomplished by Carbon Tracker's team of financial analysts, especially as 'stranded assets' is now in the common financial lexicon of investors and regulators. The simple numbers from our first report on stranded assets have profoundly changed the way investors and regulators think about climate risk, particularly the need to transition away from our dependency on fossil fuels. To this end, I'm proud of the analytical work that we undertake for investors with Climate Action 100+."
About Joan Bavaria Award for Building Sustainability into the Capital Markets
Joan Bavaria was the co-founder of Ceres and a pioneer of social investing, using her vision and passion to help catalyze change in the capital markets. She dedicated her life to exploring and developing all means of social investing and to educating and motivating other investors. Among other endeavors, she founded Trillium Asset Management and Ceres; her influence is still reflected by their efforts today.  Ceres and Trillium Asset Management created the Joan Bavaria Award to honor her legacy in 2008 after she lost her prolonged battle with cancer.
About Ceres
Ceres is a nonprofit organization working with the most influential capital market leaders to solve the world's greatest sustainability challenges. Through our powerful networks and global collaborations of investors, companies and nonprofits, we drive action and inspire equitable market-based and policy solutions throughout the economy to build a just and sustainable future. For more information, visit ceres.org and follow @CeresNews.
About Trillium Asset Management
Founded in 1982, Trillium Asset Management is an investment management firm with over $3 billion in assets under management (as of 12/31/19). Trillium integrates Environmental, Social, and Governance (ESG) factors into the investment process as a way to seek to identify companies better positioned to deliver strong, long-term performance. Trillium has a long history of managing equity and fixed income portfolios for individuals, foundations, endowments, religious organizations, and other non-profits. For more information, visit www.trilliuminvest.com.
About The Carbon Tracker Initiative
Founded in 2011, Carbon Tracker is a non-profit independent financial think tank that carries out in-depth analysis on the impact of the energy transition on capital markets and the potential investment in high-cost, carbon-intensive fossil fuels. Its 30 strong team of financial market, energy and legal experts apply groundbreaking research using leading industry databases to map both risk and opportunity for investors on the path to a low-carbon future. It has cemented the terms "carbon bubble", "unburnable carbon" and "stranded assets" into the financial and environmental lexicon.  Visit: www.carbontracker.org.