Event Details
20 September 2021
Online

Start 10:00
End 17:00
20-26 September | Online
Climate Week NYC, taking place September 20-26, returns for 2021 with a focus on fulfilling and increasing commitments made by businesses, governments, and organizations. It is the time and place where the world gathers to showcase leading climate action and discuss how to do more, fast.
Hosted annually by international non-profit the Climate Group in conjunction with the United Nations, and in partnership with the COP26 and the City of New York, Climate Week NYC is a global opportunity to come together to accelerate climate action and assess progress ahead of COP26.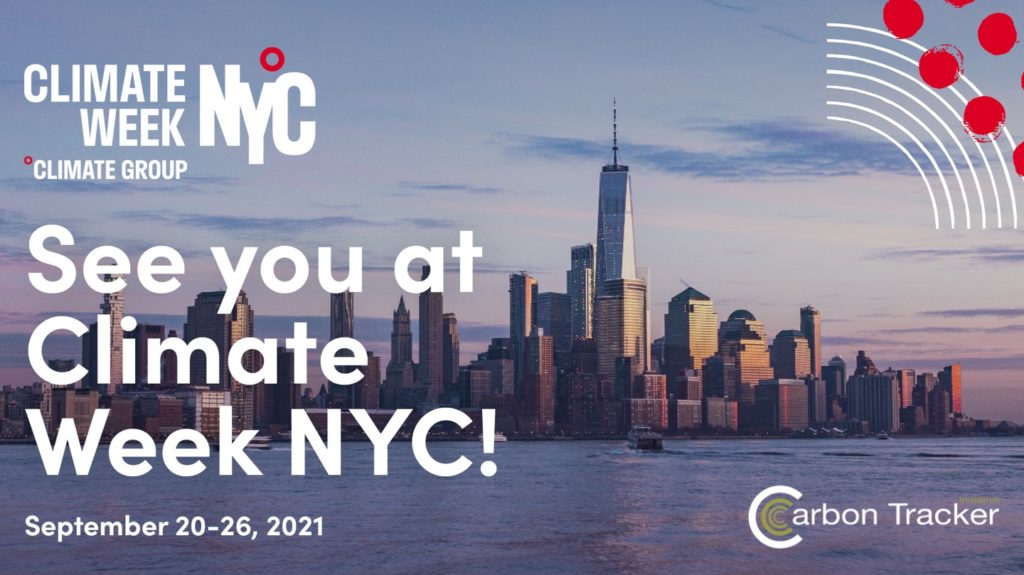 Carbon Tracker is involved in a couple of events this year
20 September
Carbon Quotient: Accounting for Net Zero
12:00 – 1:30 EST | 17:00-18:30 BST
Robert Schuwerk Executive Director, North America,  from Carbon Tracker Initiative will be moderating a discussion on the development and the features of Carbon QuotientTM methodology. As a growing number of governments, global companies, and institutional investors rapidly commit to carbon neutrality or "net zero" by mid-century, Carbon QuotientTM (CQ), a new transition risk tool set, is well-positioned to meet the need for a comprehensive navigational tool to guide the journey towards net zero.
Find out more and register here
23 September
Stranded Assets and the implications of Net Zero 2050 for upstream oil and Gas
10:00 – 11:00  EST | 15:00-16:00 BST
Mike Coffin and Axel Dalman from the Oil and Gas team of Carbon Tracker will be exploring Carbon Tracker's latest company level analysis highlighting  that some of the largest companies globally are most exposed to asset stranding due to a high proportion of projects (operational and planned) in high-cost areas including deepwater offer and shale oil.
Speakers include:
Bjorn Otto Sverdrup Executive Committee Chair, OGCI
Mike Coffin, Senior Analyst, Carbon Tracker
Axel Dalman, Associate Analyst, Carbon Tracker
Andrew Collins, Director of ESG & Responsible Investing
Adrienne Von Schulthess, Security Analyst, ESG Investing, SFERS
Moderator | Carlos Anchondo, Journalist, E&E 
As more events are announced we will be updating this page so make sure to check back in the coming weeks.
Find out more about the week and events being held here.