Key Resources
Looking for more information? Here's everything you should need.
Tool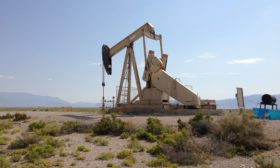 In Carbon Tracker's paper, It's Closing Time: The Huge Bill to Abandon Oilfields Comes Early, we...
Download Resource
Summary
As the Colorado Oil and Gas Conservation Commission's (COGCC) seeks to fulfill its statutory mandate to "require every operator to provide assurance that it is financially capable of fulfilling every obligation imposed" by the state's rules and regulations,[1] it needs to figure out how much it will really cost to plug and abandon its wells.  For evidence, it should look to North Dakota, where last year's CARES Act well plugging program has yielded actual receipts for 251 well plugs and 128 site reclamations.
Key takeaways from our analysis of North Dakota data:
Plugging alone has averaged over $130,000 per well. Reclamation costs roughly double that total, bringing per-well retirement costs to over $250,000 on average. With around 50,000 wells in Colorado,[2] that would come to $12.5 billion.
The relatively high frequency of very-high-cost plug and reclamation projects suggest that states should consider implementing a risk-sharing system (e.g., a severance tax-funded stop-loss insurance program) to supplement surety bonds and improve incentives for timely well plugging by responsible parties.
[1] Colorado Revised Statutes, 34–60–106 (13).
[2] COGCC, Daily Activity Dashboard, page 2 of 9, 'Active Well Status Breakdown'. Accessible at: https://cogcc.state.co.us/DAD.html