Key Resources
Looking for more information? Here's everything you should need.
Press release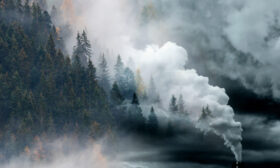 Financial institutions, banks and politicians misled by 'flawed' economic research LONDON/NEW YORK, 27...
Read More
Supporting Document - How did we get here?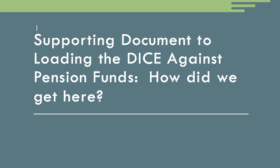 This supporting document details how the failures in academic research that were noted in Loading the DICE against Pensions occurred. We start with the issue of why the errors we identified were not picked up by peer review.
Download
Key Quotes
Mark Campanale - Carbon Tracker Founder & Director said: "To ensure that the world moves into a new climate secure energy system, it's crucial pension schemes send the market the right investment signals. The signal has to be that a swift, orderly transition is in everyone's financial interests, particularly for scheme beneficiaries. However, the relationship between economics, climate science and assessing financial risk is not a comfortable one: as this report demonstrates, the advice pension schemes are receiving risks trivialising the potentially huge damage climate change will have to asset values."
Tony Burdon, CEO of Make My Money Matter said: "This report shows that the climate models used by our pension funds are not only implausible - they're dangerous too. This so called 'expert advice' is underpinning the investments of millions of UK savers, yet is jeopardising both our pensions and the planet. When temperatures on Earth last rose 5 degrees, 95% of living species were wiped out, and sea levels rose 20 meters. Yet these models suggest the impacts of such temperature rises on GDP - and our pensions - will be minimal. These predictions are flawed, complacent and dangerous. Pension funds have a fiduciary duty to urgently act on this report, and take immediate steps to protect both our pensions, and the planet."
Professor Tim Lenton - Chair in Climate Change & Earth Systems - University of Exeter said: "This is an important paper which further underlines the need for an alternative approach to assessing risks and opportunities associated with the net-zero transition. It is essential reading for asset owners and the wider investment industry.
Mick McAteer – Co-Director of Financial Inclusion Centre & Former FCA Board Member: "Pre 2008, financial markets seriously underestimated the sheer scale of financial risk in the system and how this could damage the real economy and household finances - due to the dominant but flawed economic and financial models promoted by 'experts' and conflicts of interest in the financial system. This powerful new report exposes how an even graver underestimation is now happening, this time in relation to climate risk. The causes and consequences of climate change are not fully appreciated. Financial institutions continue to finance climate damaging activities at scale. Advisers, consultants, and asset managers continue to underestimate just how exposed the financial system is to climate change. Worryingly, the causes of this underestimation appear to be the same - flawed economic and financial models promoted by experts and conflicts of interest in the financial system."
Sue Owen of Derbyshire Pensioners Action Group said: "Members of Derbyshire Divest and Derbyshire Pensioners Action Group were shocked to find that the Derbyshire Pension Fund's Climate Related Disclosures Report predicted a muted impact on the fund's returns if there is 3 degrees of global warming. 1.2 degrees of warming is producing enormous damage to millions of lives, both environmentally and financially, through floods, fires, droughts and storms. 3 degrees of warming will have catastrophic consequences for the world. We couldn't understand how the Pension Fund hadn't taken account of any of the scientific evidence about global warming, and seemed so complacent not just about the climate crisis, but also about their fiduciary duty. This report shows that the pension fund's reliance on Mercer for information is misplaced, as Mercer is relying on a totally flawed analysis from economists that is unrelated to climate science. Our pension fund needs to base their investment decisions on climate science, and urgently divest from all fossil fuels."
Pension funds are risking the retirement savings of millions of people by relying on economic research that ignores critical scientific evidence about the financial risks embedded within a warming climate.
This report reveals that many pension funds use investment models that predict global warming of 2 to 4.3°C will have only a minimal impact on member portfolios, relying on economists flawed estimates of damages from climate change, which predicts that even with 5 to 7°C of global warming, economic growth will continue. The report underscores that such economic studies cannot be reconciled with warnings from climate scientists that global warming on this scale would be "an existential threat to human civilisation."
Loading the DICE against pension funds is a call to action for investment professionals to look at the compelling evidence we see in the climate science literature, and to implement investment strategies, particularly a rapid wind down of the fossil fuel system, based on a 'no regrets' precautionary approach. Behaving cautiously now and acting to avoid a 1.5°C increase (let alone the 4°C outcome featured in this report) will enable future generations to secure the prosperity and quality of life that comes from a healthy planet.
Key Findings
Investment consultants to pension funds have relied upon peer-reviewed economic research to provide advice to pension funds on the damages to pensions that will be caused by global warming.
Following the advice of investment consultants, pension funds have informed their members that global warming of 2-4.3°C will have only a minimal impact upon their portfolios.
The economics papers informing the models used by investment consultants are at odds with the scientific literature on the impact of these levels of warming.
The economics of climate change is an interdisciplinary subject, but papers on the economics of climate damages were refereed by economists alone. Properly refereeing these papers required knowledge of the science of global warming that economists typically did not have. Consequently, economic referees approved the publication of papers that made claims about global warming that are seriously at odds with the scientific literature.
These claims have been fundamental to the predictions by economists of minimal impacts on the economy from global warming.
Economists have claimed, in refereed economics papers, that 6°C of global warming will reduce future global GDP by less than 10%, compared to what GDP would have been in the complete absence of climate change.
In contrast, scientists have claimed, in refereed science papers, that 5°C of global warming implies damages that are "beyond catastrophic, including existential threats," while even 1°C of warming—which we have already passed—could trigger dangerous climate tipping points.
This results in a huge disconnect between what scientists expect from global warming, and what pensioners/investors/financial systems are prepared for.
Consequently, a wealth-damaging correction or "Minsky Moment" cannot be ruled out, and is virtually inevitable.
Pension funds have a fiduciary duty to correct the erroneous predictions they have given their members.
Similarly, financial regulators, who have used the same erroneous and misleading economic damage predictions to stress test the exposure of financial institutions to climate change, must drastically revise their stress test studies.
This report calls on all stakeholders, from governments, regulators, investment professionals, all the way to civil society groups and individuals, to ensure that climate change policy is based upon the work of scientists.
Climate change must be treated as a potentially existential threat to the economy, rather than an issue which is suitably addressed by economic cost-benefit analysis.